Books in the News: Pope Francis, Cardinal Kasper and Father Rosica
Whether it is the "Francis Effect" or the recent canonization of two of the 20th Century's greatest popes, Catholic books have received quite a bit of media attention the past few weeks. While Catholics may be accustomed to frequent news articles about their Church, the recent media attention has often been particularly positive. One might even say it has been thoughtful at times, with critical reviews and analysis of the debates and discussions taking place in Rome. While not everyone may agree with journalists' assessment of Catholic matters, we can't help but appreciate that at least people are talking and thinking about religion and faith despite the growing secularization of culture.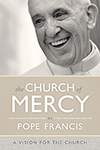 Of course, much of the media's fascination with the Church has been a result of Pope Francis' atypical papal style and teaching methods. With a pope so willing to speak off-the-cuff even during solemn liturgies, it can be somewhat difficult to get a clear picture of what he may be saying. Unfortunately, Pope Francis' messages have occasionally been misunderstood, leading some to wonder what is going on in Rome. It is striking then that the first collection of what Pope Francis has written and said in the first of year of his pontificate is in his first book as pope Church of Mercy. Although much has been written about Francis, Church of Mercy offers us, what Publishers Weekly recently noted,  "a fascinating insight into the mind and heart of someone who has rapidly become one of the world's most beloved public figures."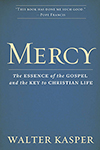 It isn't just Pope Francis who is capturing popular attention. German cardinal Walter Kasper, a long-time theologian and author of the recently-released book Mercy, caused some uproar following an interview with him featured in Commonweal Magazine. While more progressive-leaning periodicals praised Kasper's interview and his wrestling with the questions about marriage and family, others have asked the cardinal to clarify what he means or tell us what he really thinks. Some writers, such as Ross Douthat of the New York Times, have critically examined the cardinal's arguments and raised questions about his logic. With all of the critical press, one has to wonder if Kasper might be asking for a little mercy from his reviewers.

With all the excitement about this seemingly new talk of mercy from Church leadership, it is easy to forget that Pope Francis and Cardinal Kasper were not the first ones to speak of mercy. Countless popes before have spoken about our need and dependence upon God's generous mercy and grace. Pope John Paul II often spoke of God's mercy. In fact, one of his earliest encyclicals, or papal letters, reflected on mercy. Canadian priest and director of Salt and Light Media, Fr. Thomas Rosica C.S.B., reminds us in his recent book John Paul II: A Saint for Canada that John Paul II "was a sinner who experienced God's mercy and forgiveness." Marking the occasion of John Paul II's canonization, Catholic papers across Canada shared an excerpt of Fr. Rosica's book which further reflects on John Paul's prophetic witness to mercy while on his many visits to Canada.
Whether good or bad, the recent media about the Church and its teaching offers us the opportunity to engage our friends and family in thoughtful conversation about what it really means to be a person of faith in our every day life. We can only hope that all of this attention may inspire others on their journey of faith.
All of these books are now available from Novalis. Visit the links above or our home page to find out how. 
-Don Beyers, Marketing Manager