10 Ways to Create a "Green" Church or School
We are excited about the release of Greening Your Church: A Practical Guide to Creation Care Ministry for Parishes, Dioceses and Religious Communities by Norman Lévesque. Greening Your Church explores the Church's teaching about creation care and offers us practical ways of living in harmony with all of God's creation.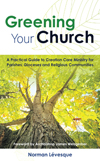 Since the weather has been on the mind of many, with recent flooding, severe storms and temperature extremes across Canada, it seems appropriate then that we share with you a few of the practical ways that Lévesque highlights in his book. Take a look at these and discuss how you may implement them in your school or parish community!
Install bike racks near the entrance of your school or church.
Indicate on your website which bus routes pass near your church.
Organize carpooling for Sunday Mass.
Reduce your paper usage.
Recycle paper, metal, glass and plastic by placing recycling bins in handy areas.
Recycle batteries, cell phones and old computers.
Compost food waste by taking part in municipal composting programs or by installing a compost bin on church property.
Buy fair trade tea and coffee for meetings and gatherings.
Choose organic and/ or locally grown food for your community suppers.
Encourage local purchases. Some churches organize "100-mile lunches" where all the ingredients come from within that radius. The group learns more about the availability of local products and has a delicious meal!
Do you have any other suggestions for churches and schools seeking to be more environmentally friendly?
Read more about ecological stewardship and Christian teaching on creation care! In addition to Greening Your Church, Novalis offers to you For Earth's Sake and Eco-Theology.