Saint Kateri Tekakwitha: A Saint for Our Time
When Saint John Paul II spoke to the young people attending World Youth Day in 2002 at Downsview Park, he noted this young Native American Saint as an example of humility and holiness for the many youth gathered that day.
During his homily, John Paul II said:
"At difficult moments in the Church's life, the pursuit of holiness becomes even more urgent. And holiness is not a question of age; it is a matter of living in the Holy Spirit, just as Kateri Tekakwitha did here in America and so many other young people have done."
If Tekakwitha is a model of goodness and humility, what is so notable about the life of this saint we hear so little about? What can we learn from this 17th century saint?
Saint Kateri Tekakwitha known as the "Lily of the Mohawks" was born in 1656 at Ossernenon to a Catholic Algonquin mother and a Mohawk Chief. At the age of four, Tekakwitha was left an orphan after smallpox took the lives of her parents and baby brother. Although smallpox had marked her face and left her partially blind, Tekakwitha survived. Her two aunts and her uncle, also a Mohawk chief, adopted her. Despite the misgivings of those around her to become a Christian, Tekakwitha was baptized and lived a prayerful life. After much hostility and persecution, she ran away from her uncle's home and settled in a village near Montreal in a small Jesuit community. There she grew in faith, committing herself to prayer, penance and caring for the ill and elderly. After years of deteriorating health, Tekakwitha passed away shortly before her 24th birthday uttering the words "Jesus, I love you."
It is has been more than 300 years since the passing of Tekakwitha, but to this day people look to her for direction and strength in their walk with Christ. Her life is an example of how those in consecrated life have courageously stood up for their faith and served the Church in Canada. The life of Tekakwitha encourages us to evangelize in our contemporary society, as we too are called to "go into all the world and preach the gospel to all creation." Mark 16:15
Discover more on the the remarkable life of Saint Kateri Tekakwitha through words and images in Faith Moments: Saint Kateri Tekakwitha and Saint Kateri Tekakwitha, Lily of the Mohawks (for kids). To read more about men and women who have given their lives to Christ and on the joy of consecrated life, check out a recently published Novalis book Love is Giving Everything.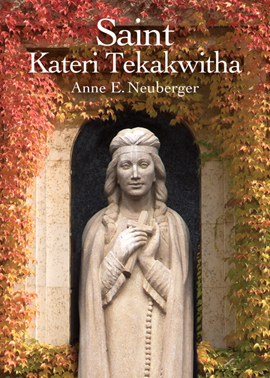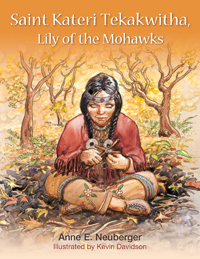 – Lisa Dzikowski, Marketing Assistant
"28 July 2002, Mass for the Celebration of the 17th World Youth Day in Downsview Park, Toronto | John Paul II." 28 July 2002, Mass for the Celebration of the 17th World Youth Day in Downsview Park, Toronto | John Paul II. 28 July 2002. Web. 13 July 2015.
"Saint Kateri Tekakwitha." Saints Stories for Kids- Loyola Press. 2013. Web. 13 July 2015.