HOLY FAMILY OF JESUS, MARY AND JOSEPH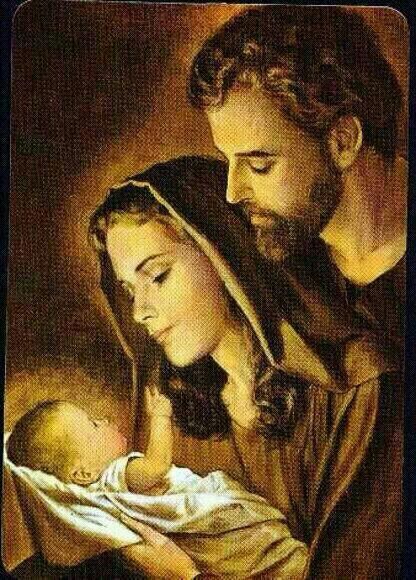 When I think "holy," I often think "perfect." So the Holy Family can be a bit intimidating. How can our families ever measure up?
Part of the issue is that we don't get the full story of Mary, Joseph and Jesus' family life from Scripture. Sure, there was that episode when Jesus was 12 when he disappeared from sight for a few days, causing much worry for his parents, but otherwise we don't have much to go on. There must have been other times of worry, or fear, or doubt, or annoyance.
Let's face it: family life is messy! It involves various personalities living at close quarters. They may or may not see things the same way. There are irritations and spats and stresses. People throw up sometimes. People let each other down, or are late, or aren't listening. Does that mean they can't be holy?
Of course not. Holiness is really about rooting our lives in God, as the less-than-perfect saints did. Whatever is going on in our lives as a family, we can offer it to God and live in a way that echoes God's love for us. As followers of Jesus, we can accept whatever challenges God gives us and use them to build God's kingdom on earth. We can be people whose lives reveal aspects of God – such as mercy, justice, kindness, hope, compassion and generosity – in our interactions with others (and with ourselves).
We're only human, but we were created by God. That knowledge gives us strength and courage on the road to holiness. Praying to the Holy Family can help us stay the course, even (or especially) when we feel like we'll never quite be holy enough.
Jesus, Mary and Joseph,
in you we contemplate the splendor of true love,
to you we turn with trust.
Holy Family of Nazareth,
grant that our families too
may be places of communion and prayer,
authentic schools of the Gospel
and small domestic churches.
Holy Family of Nazareth,
may families never again experience
violence, rejection and division:
may all who have been hurt or scandalized
find ready comfort and healing.
Holy Family of Nazareth,
make us once more mindful
of the sacredness and inviolability of the family,
and its beauty in God's plan.
Jesus, Mary and Joseph,
graciously hear our prayer.
(Pope Francis, Feast of the Holy Family 2013)
–Anne Louise Mahoney, Managing Editor