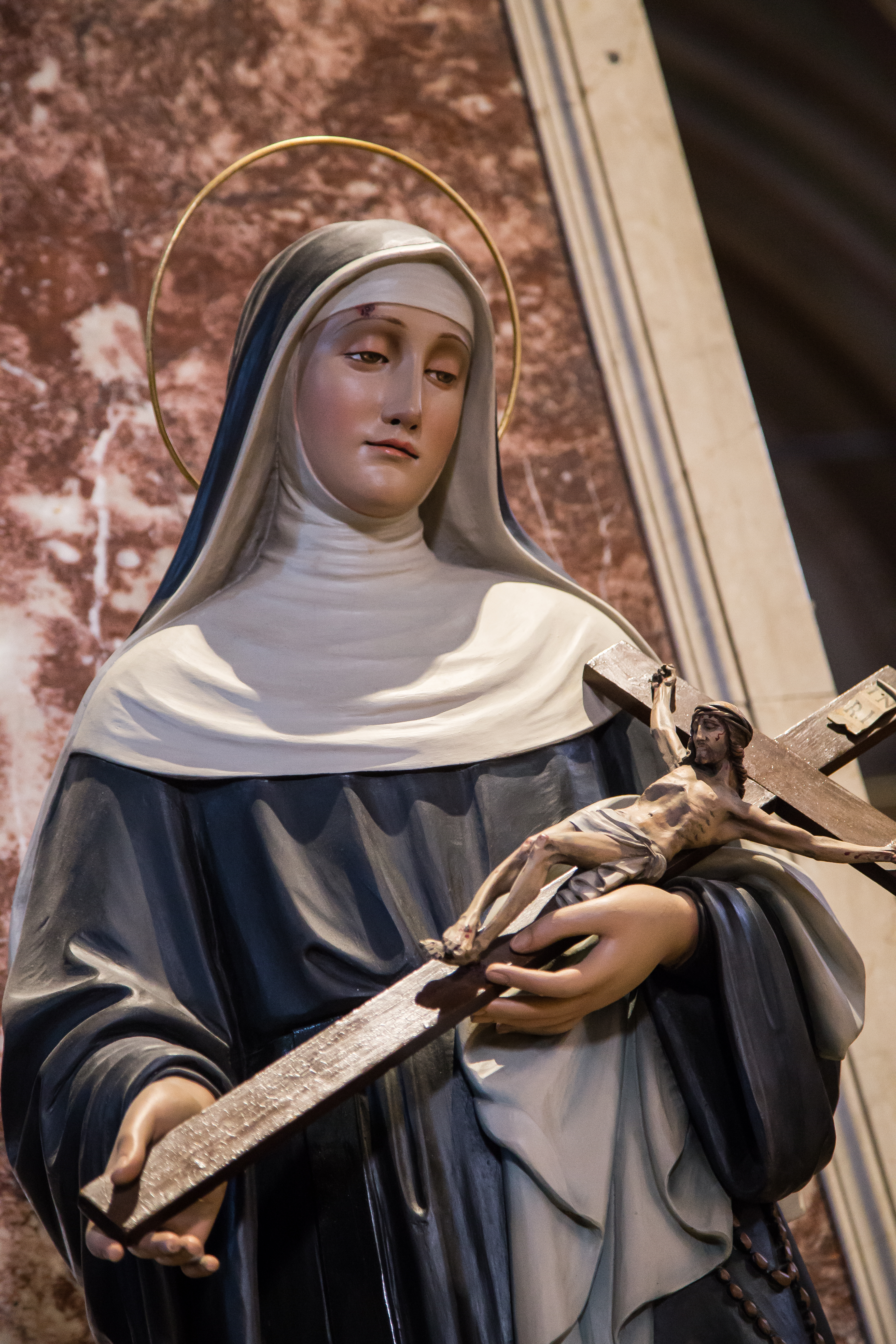 If you plan on confronting a Pope (or two), especially if you are a woman – an uneducated one at that – you better have a pretty strong connection to the Lord, Jesus Christ. If you want to do this in the late 1300s, after a devastating plague that wiped out a third of the population, you will need the whole host of heaven to help you. And that is exactly what St. Catherine of Siena had.
The first of only four women to be named a Doctor of the Church, St. Catherine was the twenty-fourth child of her parents (that's not a typo!). In her early adolescence, a vision of Christ dressed in papal vestments led St. Catherine to believe she had a calling to serve the papacy. Her service, however, was not to polish the papal tiara and iron the royal robes. No, her service was to confront some of the most powerful men in the church and state, negotiate peace, help reform the clergy, defend the Church and, of course, to pray – always to pray.
To say that the church was in a bit of a mess at the time is an understatement. In the early 1300s, the papacy had moved from Rome to Avignon, France. Many, including St. Catherine, believed that the key to dealing with the corruption of the church was to get the Pope back to Rome – the seat of Peter – and out from under the influence of the French monarchy. So, she made a visit to Pope Gregory XI. Not only did he permit her an audience, he took her advice and returned to Rome. The courage of St. Catherine to confront the Pope and the Pope's humility in listening to her are both astonishing. Her work as papal advisor was not over, however. When Gregory XI died and Urban VI succeeded him, an anti-pope was elected back in Avignon. St. Catherine worked tirelessly to promote obedience to the man whom she regarded as the rightful head of the Church.
What was the source of St. Catherine's fortitude (as well as her reputed humility and compassion)? At least in part, it was that she had a place of freedom and safety deep within. Her spiritual advisor told her "built a cell inside your mind from which you can never flee." It was there that she lived out a mystical prayer life that was intense and ecstatic. It was there that she was granted visions that sustained and compelled her. She was able, thus, to remain deeply connected to Christ and free to act in the cause of justice without fear for her own safety.
So, if you ever find yourself living in the midst of a plague, if there are two Popes in the Church (albeit one emeritus), if the Church is in need of a little reform and you might feel called to serve in some fashion, St. Catherine of Siena is a perfect companion.
–Christine Way Skinner is a Lay Pastoral Associate at St. John Chrysostom Parish in Newmarket, ON. She received a Bachelor of Arts in Theology degree from St. Francis Xavier University and a Master of Divinity from Harvard Divinity School. Christine loves trying to find inclusive, compelling and creative ways to pass on the church's 2000 year old traditions. She also loves art, playing music, reading, gardening and playing board games with her children. Christine's numerous publications can be found and purchased here.