"LOVE THAT CANNOT SUFFER IS NOT WORTHY OF THAT NAME" -ST. CLARE OF ASSISI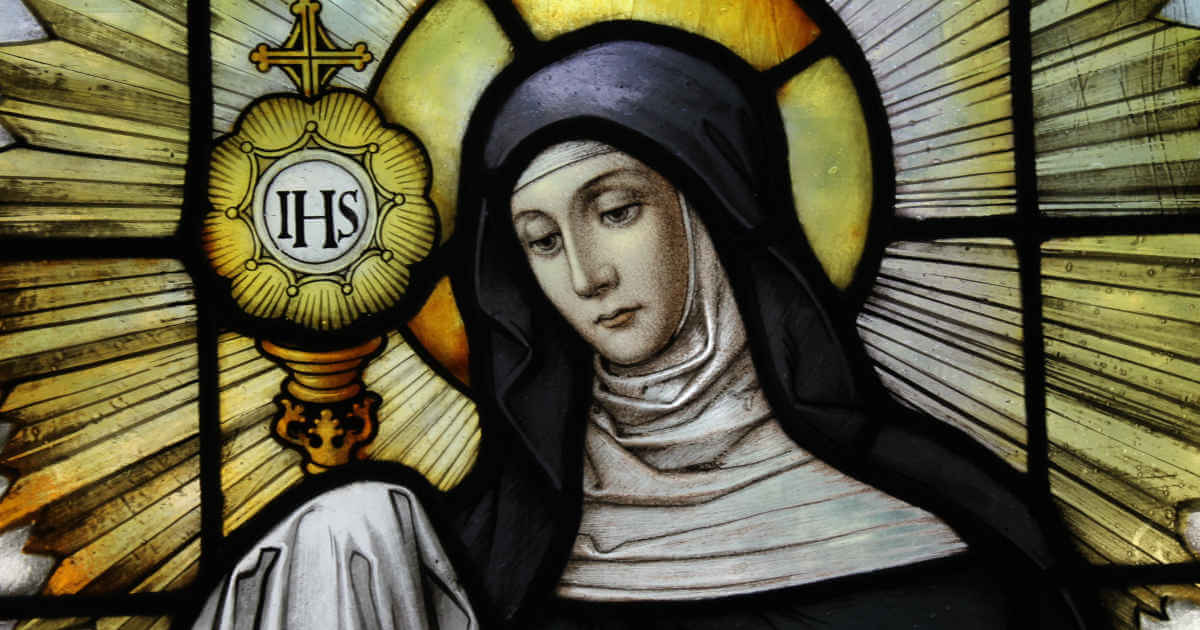 Suffering is something that we seem to want to avoid at all costs. These words of a saint who has been honoured through the ages, remind us that love comes with suffering. This is a humble call to faith that does not boast of its holiness. It is a model of faith that reminds us of sacrifice and caring for others. We witness this love in Jesus, whose suffering reveals God's love to us. What can we learn from a contemplative sister and follower of St. Francis who dedicated herself to prayer, a cloistered life and poverty? This is a saint with centuries of influence. Images and writings place the story of St. Clare in gilded frames. But, like her mentor, St. Francis, St. Clare is a model of sacrifice and resilience. Sometimes, in our devotion and interest, we can lose sight of the role this woman played in transforming her community and church. 
We are currently living in an age where sacrifice for others is not the norm. If we look at who is revered today, we see success is measured by wealth and attention. Celebrities are born from posting pictures of themselves or the people in their presence. It is a challenge to find leaders, or heroes who would stand selflessly with the poor. So, let us consider, in our present day, a person like St. Clare of Assisi.
St. Clare, Chiara Offrenducio, was born the daughter of a Count in 1194. At the age of 15, she was promised in marriage. This was not to be her fate. Clare was a prayerful and devout young girl. However, she was like many youth today, or in early modern Italy, impressionable and rebellious. When she had the occasion to hear St. Francis of Assisi preach, she was so affected by his words, she became committed to living a life more closely aligned to the gospel. At 18 years of age, she left her parental home and was given a place of refuge by the Franciscan friars. Clare gave away her jewels and gown, cut off her hair and took on a sackcloth robe. St. Francis would be her spiritual guide for the rest of her life.
At this time in history, there was a flourish of architecture and design resulting in ornate churches and works of religious art commissioned by popes. The society in which Francis and Clare grew up was developing into a huge chasm between rich and poor. This was even becoming apparent in the Church. Clare was devoted to the mission of St. Francis, to respond to poverty and to live the gospel. The friars felt it too dangerous to have Clare and others in the streets and so she joined a convent of Benedictine nuns in San Paulo. Her father tried to bring her back home, but she was later joined by her sister. They took vows of poverty and lived in seclusion from the world. St. Clare would eventually establish a convent at San Damiano. She became the abbess of the Poor Clares (The Order of St. Clare) in 1212 and led the community until her death.
There are moments in the life of St. Clare that demonstrate the reasons for her enduring influence throughout the centuries. When an army of Frederick II attacked the community, St. Clare held out a monstrance and confronted the approaching army. The attack was averted. She is often painted with a pix in her hand. Living through times of turmoil and conflict between the Holy Roman Empire, the papacy, the merchant class and aristocracy, St. Clare was an advocate for peace. This was an age of considerable religious, political, economic and cultural upheaval. St. Clare would not be defeated by these challenges. She fought illness and poverty and died at the age of 59 after 41 years of religious life. She was canonized in 1255 and would be an inspiration to bishops and church leaders. During the Reformation in the 15th and 16th centuries, devotion to St. Clare increased.
St. Clare's obedience to and friendship with St. Francis was life long. She cared for him in his dying days. The determination that she had to follow the way of St. Francis may not be totally in keeping with some of the popular artistic depictions of her life. The kind of sacrifice and suffering that was lived in these contemplative communities would have been brutally austere. Today, we see her name on schools, churches, cities, townships, lakes and rivers. In fact, Christopher Columbus arrived on the shores of the new world in a ship, La Nina which took the saint's name, the Santa Clara. Considering the call to the gospel, there is a dichotomy in this history of colonialism. Standing for peace and the oppressed, I am sure that today, St. Clare and St. Francis would be standing with indigenous people and those who have been exploited for profit.
"Love that cannot suffer is not worthy of that name." Our world is a place where there is too much suffering. It is crying out for love and the sacrifice of a model such as St. Clare. She is the patroness of eye disease, goldsmiths and laundry. (I will reflect on this when I am in the laundry room.) She is also the patron saint of television. The next time you are flipping through the channels, think of St. Clare's advocacy for peace and for living in solidarity with the poor. Our televisions are a blast of commercialism and violence. We ask St. Clare to pray for peace and love which embraces suffering to transform us today.        
Happy feast of St. Clare!
–Jan Bentham is a Retired Religion Coordinator with the Ottawa Catholic School Board. She is a musician, serving in music ministry at St. Ignatius Parish in Ottawa. She currently works at St. Paul's University with the Catholic Women's Leadership Program.