SAINTHOOD IS FOR EVERYONE!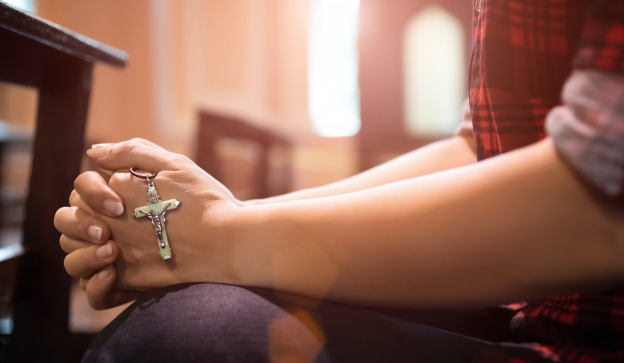 Messages from Heaven can come in conversations with strangers. Not too long ago, I had such an encounter with a woman on a bus. She was on her way to arrange for the burial of her sister's ashes. She was really distraught – which is why, perhaps, she began talking to me – a perfect stranger across the aisle of a city bus. The woman told me how she had put off the burial because she could think of no one to invite. Her sister had no friends. She lived alone and she and mother were the only significant relationships in her sister's life. This woman lamented her sister's lonely life. I listened, also feeling sad for this person whose name I did not even know. Then, for some reason, the stranger disclosed that she was Catholic. That's when the message came. "You know," I said, "in our Tradition, one of the paths to God is solitude. It's not a path many celebrate in today's culture, but it remains a path to holiness." Then I told her about the many hermits, cloistered men and women and monks who found their way to God by being alone. In their aloneness (not loneliness) they often kept others in prayer and anonymously helped many. "Perhaps you sister's path to holiness was solitude!" I suggested. This had never occurred to her. (If I'm being honest, it had never really occurred to me until that moment. I'm going to boldly declare it to be a moment of inspiration from the Holy Spirit.) The unnamed woman smiled, thanked me, and, I presume, went off to arrange for the burial of her sister.
This conversation reminded me that there is a path to sainthood for everyone. These paths are as diverse as the people of God who are called to be saints. For, to be a saint is to be the very best version of ourselves. Sainthood doesn't always look like the stereotype. It is not just for those people who everyone looks at and says: "Oh, will you look at Mrs. Fitzpatrick! That woman is a living saint!"
There are young saints (as the most recent beatification of 15-year-old Carlo Acutis shows). There are old saints (Abraham and Sarah). They come from the ranks of the wealthy (St. Elizabeth of Hungary, St. Thomas More) and, more often, from the poorest of the poor (St Martin de Porres, St. Kateri Tekakwitha). Some were known for their kind and gentle ways (St. Catherine of Siena). Some were difficult to get along with or had sharp tongues (St. Jerome, St. Therese of Lisieux). They were the kind of people that light up the room when they enter and they were the kind of people that people wished would stay out of the room so that they could live comfortable, unchallenged lives. The point is, that the call to sainthood is a universal call. And we do not have to tread that path alone (even if we are otherwise called to a life of solitude!)  
This "great cloud of witnesses" accompanies us. They inspire us with their words. They model holiness for us with their lives. They pray for us to be our very best selves so that we, too, can one day join them at the heavenly banquet table. It is cause for celebration, indeed! And, so, the Church provides for us the Solemnity of All Saint's Day!
–Christine Way Skinner is a lay minister and author. She received a Bachelor of Arts in Theology degree from St. Francis Xavier University and a Master of Divinity from Harvard Divinity School. Christine loves trying to find inclusive, compelling and creative ways to pass on the church's 2000 year old traditions. She also loves art, playing music, reading, gardening and playing board games with her children. Christine's numerous publications can be found and purchased here.