O'Connor's Prayer to St. Raphael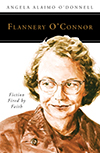 The following is an excerpt from our recently published book Flannery O'Connor: Fiction Fired by Faith. We hope you enjoy it as much as we do. Order your copy today and be inspired by O'Connor's faith and life.
"In spite of the fact of O'Connor's geographical fixity, she always understood herself to be on pilgrimage. Late in 1955, she learned that the gradual degeneration of her hipbones had progressed and that she would need to use crutches for a year or two. Referring to them as her "flying buttresses," O'Connor received this news with her characteristic stoicism and good humour, even as her condition worsened in the following year and she learned the crutches would be permanent. Though her physical movement became more restricted, the pace of her intellectual and spiritual journey never slowed or slackened. As a writer and a Catholic, O'Connor advanced along the journey through the twin practices of her faith and her art, and she never lost sight of her destination.
The prayer to Sr. Raphael cited in the epigraph was one O'Connor said every morning for many years as part of her daily office; she found both freedom and consolation in this prayer. In the face of loneliness, isolation, constant physical pain and limitation, and the psychological burden of living with a fatal disease, her daily appeal to St. Raphael, "the Angel of Happy Meeting," was a daily passage to "the province of joy." O'Connor knew that the "true country," the proper destination, orientation, and disposition of a believing Christian, is joy-a word with a rich history of theological nuance, suggesting as it does both heaven (a place towards which we tend ) and paradise (the place where human beings originated). In both cases, joy is a place and circumstance that belongs to us. Through prayer and through her writing, which served as a kind of prayer for O'Connor, she could place herself on the threshold of that province using the power of the word and the imagination.
Prayer was a means of movement for O'Connor. It could propel her from the limited place in which she found herself toward the limitless space of joy, a location that can be occupied in the here and now, as well as looked forward to in eternity.In George Herbert's celebration of prayer, he describes the place it takes one to as "the land of spices." Another praying poet, Emily Dickinson, describes the paradox of prayer emphasizing its locomotive power: "Instead of getting to heaven at last/I'm going all along." Both poets, along with O'Connor, know that prayer transports the pray-er through the here-and-now, providing her with a foretaste of paradise. There is little wonder that O'Connor felt compelled to share this prayer with her most intimate friends. Nine years after the letter quoted in the epigraph, on July 14, 1964, just three weeks before her death, Flannery enclosed the prayer in a letter to another friend. It is moving to imagine O'Connor, never to rise again from her sickbed, laboriously copying out these words that had meant so much to her as a final farewell gift."
Raphael, lead us toward those we are waiting for, those who are waiting for us: Raphael, Angel of happy meeting, lead us by the hand toward those we are looking for. May all our movements be guided by your Light and transfigured with your joy.

Angel, guide of Tobias, lay the request we now address to you at the feet of Him on whose unveiled Face you are privileged to gaze. Lonely and tired, crushed by the separations and sorrows of life, we feel the need of calling you and of pleading for the protection of your wings, so that we may not be as strangers in the province of joy, all ignorant of the concerns of our country. Remember the weak, you who are strong, you whose home lies beyond the region of thunder, in a land that is always peaceful, always serene and bright with the resplendent glory of God.