WORLD DAY OF MIGRANTS AND REFUGEES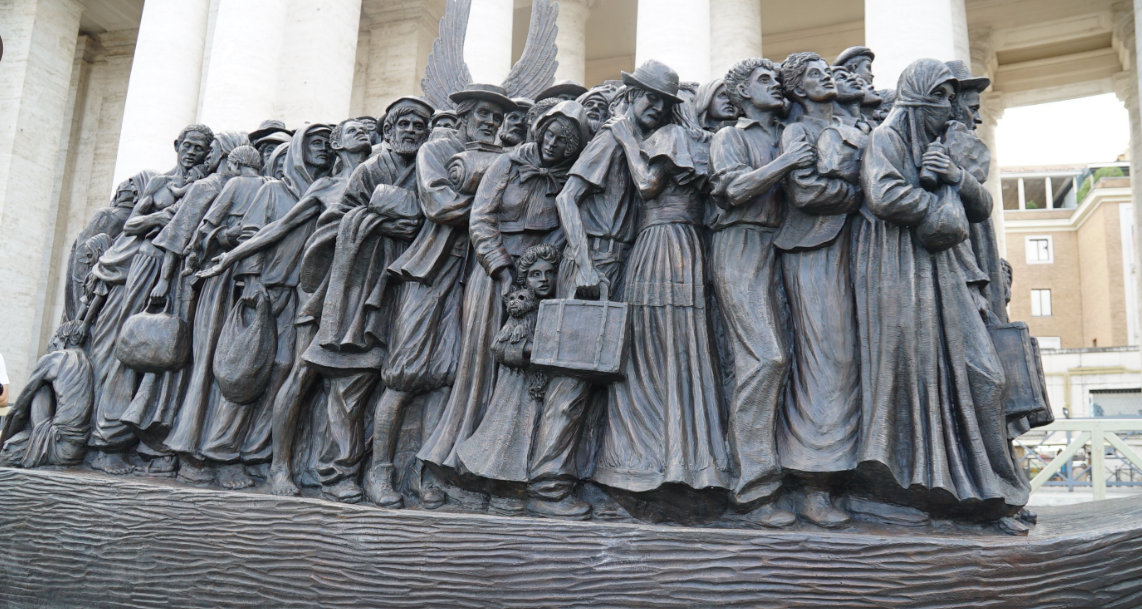 Once again, the media brought out the plight of migrants this week in the coverage of their shipment to Martha's Vineyard, Massachusetts. They were loaded onto planes and buses and sent somewhere under false pretences. Many expressed feeling embarrassed at being made into a public spectacle. Politicians are now using the issue to cause division, instead of expressing concerns over the wellbeing of humanity. What does this political stunt say about human dignity and the concern for humanity as a whole?
Where is home? Most people carry memories of childhood, where they grew up and where their family originated with nostalgia. It's no wonder Ancestry is becoming so popular. We are curious about our roots and where we come from. Despite this eternal longing for home and roots, there is an increasing lack of compassion and awareness for the displaced in our world today. Pope Francis refers to this as "globalization of indifference." It is as if humanity has not been wandering since time began. Many disregard the fact that their very ancestors crossed borders and made decisions to relocate. Today, humanity is on the move more than ever in history. There are many factors creating this reality. The climate crisis is uprooting communities all over the earth. War is displacing millions. Hate and discrimination are leaving children and families with no place to call home. Many are seeking a better life for their children as their lives are impacted by authoritarian regimes and corrupt governments. For Christians, this is a call to respond to Christ's message of welcoming the stranger.
Paul Salopek is a National Geographic journalist committed to walking with migrants and tracing the journey of humankind out of Ethiopia. According to his article in the 2019 National Geographic issue entitled World on the Move, the United Nations estimated that 1 in 7 humans are migrating within their countries or across international borders. Ideas of home have now become the open road; the sea has become a doorway to promise and to survival. Many, many perish on their journeys across scorching deserts and treacherous seas. We know this too well, remembering Alan Kurdi, the tiny Syrian refugee who drowned on his journey. Today, Turkey harbours approximately 3.7 million Syrian refugees. This crisis has not been averted. Flooding in Pakistan decimates an area where rural farmers are moving to urban areas to survive. This evacuation has consequences for our world food supply. Salopek states that "nothing can stand in the way of this unprecedented source of yearning." He asserts that we need not look at the migrants and refugees with pity but give our attention. They are resilient, strong and generous individuals with determination.
Another National Geographic journalist, Nina Stochlic, writes about those who are refugees from the start. Rohingya babies are born in Katupalong-Balukhali, the world's largest refugee camp in Cox's Bazar, Bangladesh. These precious infants are not recognized by Myanmar or Bangladesh as citizens. Without citizenship, they have no rights as human beings. Imagine, no home. No place of origin.
On this World Day of Migrants and Refugees, let us remember that we are all a circumstance away from moving and seeking out refuge. Pope Francis has always kept migrants and refugees close to his heart, remembering that his own family had immigrated to South America from Italy.
Canadian artist Timothy Schmalz was commissioned by Pope Francis to create a monument to migrants and refugees in St. Peter's Square. This powerful bronze statue is entitled Angels Unawares. It is based on Hebrews 13:2: "Do not neglect to show hospitality to strangers, for by doing that some have entertained angels without knowing it."
May we live in this world with our hearts wide open, grateful for the blessings we receive from the angels around us.
Jan Bentham is a retired Religion Coordinator with the Ottawa Catholic School Board. She is a musician, serving in music ministry at St. Ignatius Parish in Ottawa. She currently works at St. Paul's University with the Catholic Women's Leadership Program.