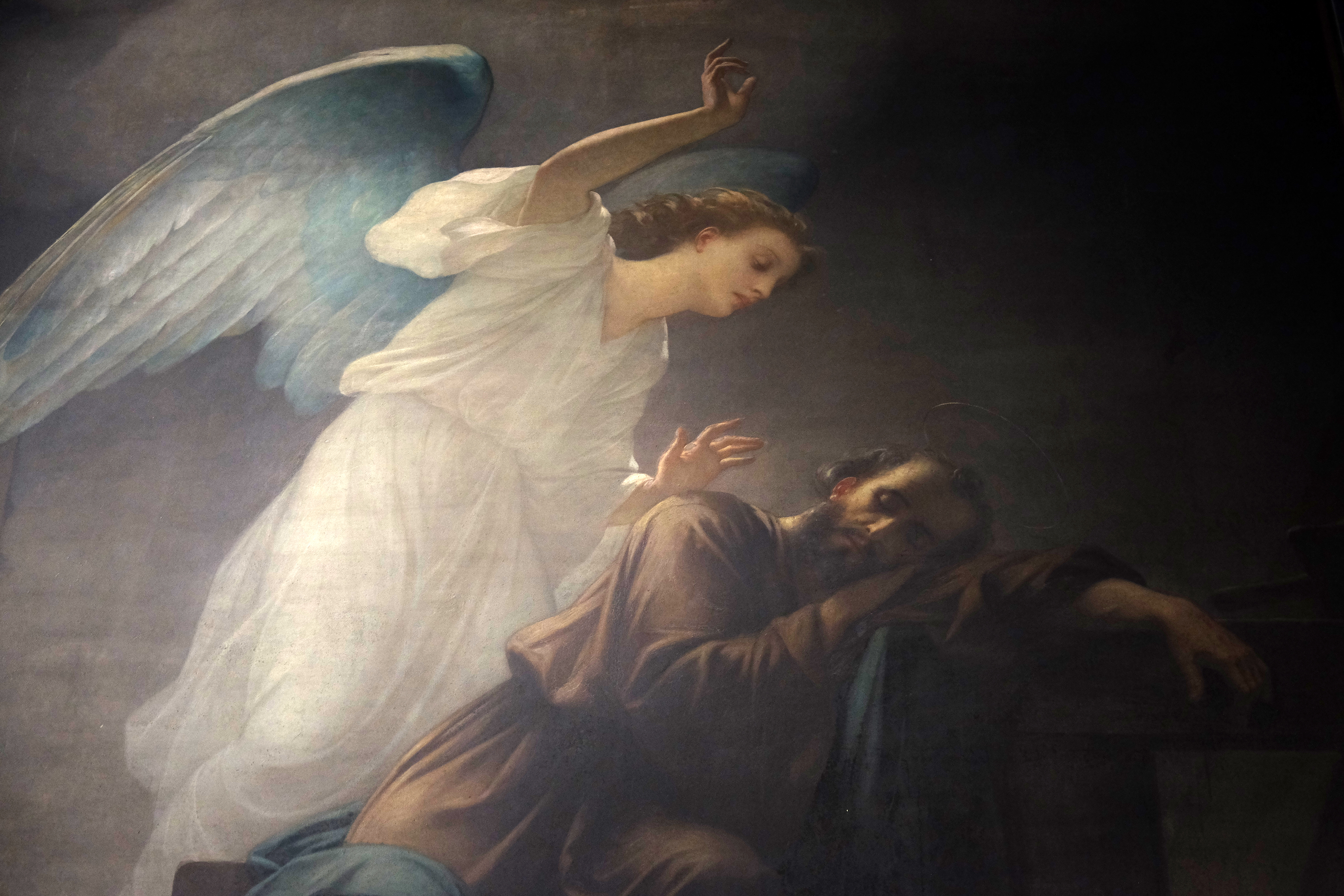 I often think of St. Joseph as the patron saint of shy men. In the little we read of him in the Gospels, he says nothing, but when called upon by an angel messenger from God, he does his duty: marrying the pregnant Mary even though he knew the child she carried wasn't his; taking his family away from peril to exile in Egypt; raising Jesus as his own child.
We celebrate the feast of St. Joseph on March 19, though it is marked this year on Monday, March 20, because the 19th is a Sunday. He is patron of many things (though "shy men" is a creation of my own imagination). He is patron of Canada, of the Universal Church, of workers, families, of those who are dying, of refugees, not to mention numerous dioceses, parishes, Catholic organizations and places.
Not bad for someone about whom we know very little. Maybe it is this very paucity of detail about his life that allows us to project our own yearnings upon him. Clearly he can handle the pressure. After all, he is called upon by God to bear an incredibly heavy burden: Who would want the responsibility of being a father figure stand-in for God? Yet there he is, taking care of the earthly needs of Mary and Jesus, quietly, without fuss, getting little glory or attention — Scripture's very own bit player.
Yet, what a role! He gives the world an exemplary model of the strong, silent type. He tells us who he is and what he stands for by his actions alone. And they speak louder and more eloquently than any discourses by many of the more loquacious members of the canon of officially recognized saints.
So what does St. Joseph stand for?
To start, faith in God. He does not question the angels' messages in his dreams; he simply does God's will. Full stop.
Then, self-giving: he devotes his life to protecting and providing for his family. No mid-life crises for Joseph. No sudden need to indulge his inner child or find his true nature.
Humility: Joseph does not put himself before others, does not grandstand or demand everyone's attention. He allows others to shine.
There's also something I call Christian maturity. He does what needs to be done without fanfare. He makes adult decisions based on an assessment of the situation and then demonstrates determination to follow through on his decisions, despite the challenges.
In so many ways, Joseph represents the antithesis of what it means today to be an adult (or of "adulting" as our culture often puts it). In a culture obsessed with self-gratification, Joseph offers a way to live that requires sterner stuff than we typically possess.
It is true, no doubt, that in the past we overdid the strong father figure stereotype. Today, many men attempt to be more sensitive fathers and spouses and avoid the more toxic aspects of macho behaviour in their personal and professional lives. This is all to the good.
Yet Joseph can be a model for all of us, not just men, of self-giving love and sacrifice. We can be inspired by his life while navigating today's culture.
St. Joseph, pray for us.
Joseph Sinasac is Executive Director of Novalis Publishing. He has been involved with religious communications for more than 40 years as an author, journalist, editor and TV and radio commentator on all things Catholic. He continues to be excited by the commitment and passion of the Catholics he meets in his daily work.